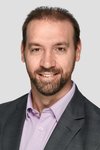 Head of Implementation Strategy
Location
London, United Kingdom
Contact
[email protected]
As Head of Implementation Strategy, Peter Low oversees Open Ownership's support to national governments as they seek to disclose beneficial ownership data.
Peter's first contact with the world of beneficial ownership came at the start of his career, when he spent two years conducting due diligence investigations into business figures and public officials across the globe. In this role, he was frequently exposed to the myriad ways in which organised crime groups and corrupt officials utilise opaque corporate structures for illicit ends.
Later, he served in various management, research and consultancy roles for UK government-backed anti-money-laundering and anti-corruption programmes in Africa, Latin America and Asia. Shortly before joining Open Ownership, he authored an extended scoping study on illicit financial flows (IFFs) through Panama, commissioned by the UK Foreign and Commonwealth Office, and worked as a Senior Political Risk Analyst for IHS Markit.
Peter is a Senior Research Associate on IFFs at University College London's Global Governance Institute and holds an MA in Conflict, Security and Development from King's College London. He has spent more than four years in Latin America, principally in Colombia, and lived in Barcelona from 2015-2020. He speaks fluent Spanish and serviceable Catalan and is based in London.