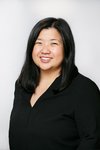 Finance and Administration Associate
Location
Glasgow, United Kingdom
Contact
[email protected]
Denise Yap is Open Ownership's Finance and Administration Associate. She supports the team in finance and operations, working closely with the Director of Finance and Human Resources. 
Before joining OO, Denise's work in Scotland included a project with the Scottish Government, collecting data from care homes during the COVID pandemic. She studied photography at university in Singapore, and has previously worked as a web designer, which contributes to her strong interest in using technology and digital tools to serve the needs of growing organisations. 
Denise is based in the UK.