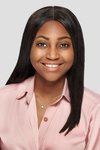 Favour Ime is a Regional Manager for the African region at Open Ownership. She leads our technical support to national governments in Africa which are committed to Beneficial Ownership Transparency (BOT), helping them implement legal, technical, and other changes required to achieve BOT reforms. She brings her extensive experience in legislative and policy drafting to this role, as well as using technological and digital solutions to facilitate the administration of justice.
Prior to joining Open Ownership, Favour worked as an Associate Lawyer in a commercial law firm - Olaniwun Ajayi LP - in Nigeria. She worked for various regulators and government departments such as the Central Bank of Nigeria, the Asset Management Corporation of Nigeria and the Corporate Affairs Commission, and provided legal advice to facilitate the discharge of their statutory mandates.
Alongside her law degree, Favour received the 'York Award' whilst at University - an employability certificate in recognition of her commitment to self-development through work experience, volunteering and leadership. She is passionate about contributing to the development of Nigeria and Africa at large. This passion led her to volunteer within the development sector in Ghana, where she worked with the National Commission for Civic Education and Amnesty International to create awareness on human rights issues in rural communities in Accra.
In her spare time, Favour enjoys creating and listening to music, as well as sharing her ideas about life through the Traffic Jam show at her local radio station. Favour is based in Abuja, Nigeria.