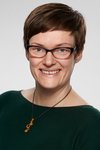 Louise Russell-Prywata is Open Ownership's Deputy Executive Director. She leads on quality assurance across Open Ownership's operations to maximise the organisation's impact, and oversees its strategic advocacy and policy influencing work. Louise joined Open Ownership in 2018 to manage technical assistance to governments implementing beneficial ownership transparency reforms, and then established and led its policy and advocacy function.
Louise brings over 15 years' experience working across governance, anti-corruption, international development and the broader non-profit sector. Prior to joining Open Ownership, she spent five years with Transparency International UK (TI-UK), serving as Head of Development. Here, Louise was instrumental in TI-UK's work to reduce the role of the UK as a safe haven for international corruption, which resulted in new UK legal powers to investigate suspicious wealth. She has wide-ranging experience consulting for and working within a range of international and national non-profits, specialising in complex social change, programme design and driving organisational growth.
Louise is a Senior Atlantic Fellow at the London School of Economics, where her research interests include elite networks of financial influence and the role of company ownership data in tackling transnational governance issues. She is based in the UK, and holds an MSc in Inequalities and Social Science from the London School of Economics.