Beneficial ownership transparency in Liberia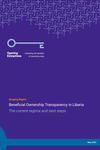 Summary
Liberia's journey towards achieving corporate transparency and tackling illicit financial flows presents a multitude of opportunities. However, these opportunities can only be maximised if the government has a clear understanding of the current regime on beneficial ownership, the gaps with this regime and the practical steps needed to make progress. This report combines desktop research and in-country stakeholder consultations to paint a clear picture of the beneficial ownership regime in Liberia using the framework of the Open Ownership Principles. It also makes tailored recommendations that can be implemented over the next two years to advance beneficial ownership transparency reforms in Liberia.
Key Learning Outcomes
Title 5 of the Associations Law was amended in 2020 to provide a definition of a beneficial owner. However, desktop research and in-country consultations reveal that there are gaps in the legislative framework which comprehensive regulations on beneficial ownership can address. Some of these gaps include lack of examples on the forms of ownership and control, no prescribed thresholds, no specific indication of the information on the beneficial owner that should be collected, and no specific requirement for beneficial ownership disclosure. Liberia's priority is to put in place a beneficial ownership regulation and form that addresses these gaps and provides comprehensive guidance to reporting persons. 


The level of awareness and understanding of beneficial ownership and disclosure obligations affects the level of compliance with beneficial ownership disclosure requirements. If disclosing entities and persons in Liberia know and understand beneficial ownership and its value as well as the beneficial ownership disclosure regime put in place by the Liberia Business Registry, they are more likely to comply with disclosure requirements. Therefore, in addition to designing and establishing a clear regulatory framework and user-friendly forms, creating awareness and improving understanding on beneficial ownership disclosure requirements amongst key stakeholders is crucial.


Given that Liberia is an early implementer of beneficial ownership reforms and the government is still developing its capacity to deliver on digital projects of this nature, it is more feasible for the Liberia Business Registry (the key implementing agency that will host the planned beneficial ownership registry) to pilot the collection of beneficial ownership data with extractive companies, then use learnings from that process to launch the collection of beneficial ownership data from companies in every sector. 


Government agencies that are integral to advancing beneficial ownership reforms have committed to working collaboratively, exchanging information, and institutionalising the planned beneficial ownership regulations and forms once published by the Liberia Business Registry. This synergy will be instrumental in advancing beneficial ownership reforms across government agencies, particularly extractive sector regulators.
Next page: Acronym List