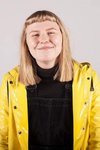 Kathryn Irish works for Open Ownership's technical partner, Open Data Services. She uses her skills and experience as a Data Analyst to support the development and implementation of the Beneficial Ownership Data Standard.

Kathryn has experience in data, marketing and communications roles. She has previously worked for Channel 4, NUGEN Audio and Leeds City Council. She studied Mathematics at the University of Leeds, specialising in statistics and computational mathematics. In her spare time she has taught for Code First Girls and Leeds Libraries' Code Club.

Kathryn currently lives in Yorkshire with her rescue lurcher.