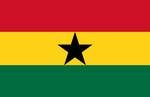 Records last updated: 06 June 2023
Contact person: Favour Ime
Current ongoing work
We support the Office of the Registrar of Companies (ORC) with amending the Companies Regulations and improving and digitising their systems of beneficial ownership (BO) declaration. We are also supporting the ORC with nationwide technical capacity-building for their staff. Our support is also focused on supporting the Minerals Commission and the Petroleum Commission with institutionalising BO in their existing license processes.
Committed to one or more
Central register(s)
Public register(s)
Data is drawn from publicly-available sources and may not be comprehensive for all countries. If data is incorrect,
please let us know
.
Implementation details
Central Register
Show further detail

Name

Central register implemented

Yes

Public access

Yes

Scope

Full-economy

Register launched

2020

Structured data publicly available

No